About Us
Contact Us
Connect with us

13010 Arbor Street, Omaha, NE 68144. (402) 697-8546
Home /
President's Message
President's Message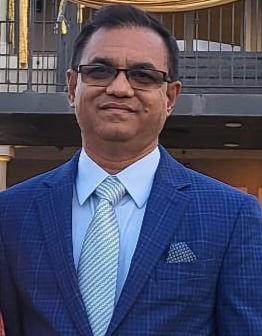 Temple President Message
Namaskara Everyone,

I would like to thank all the members of Hindu Temple Omaha for electing me as their President. It is with immense blessing and honor to have this opportunity to serve our community. I would sincerely like to thank the previous board and EC members for their hard work, dedication and commitment to the temple. We are looking for the opportunity to complete long pending projects and embark up on the new ones to benefit the devotees.

I am new to this President thing, but now and also during past leadership roles I have found myself thinking a lot about change, wondering how to make it happen for an organization like ours. As such, I humbly request all devotees and their families to actively participate and volunteer in religious, cultural and social activities of our temple. Doing so collectively enables us all to foster a vibrant and inclusive community in the service of God. We will strive to continue that tradition by planning religious events for health and prosperity of our communities in consultation with our learned priests.

Spiritual activities and praying should be a part of life that needs to be learned early in life. Our temple's Balavihar program gives children the necessary education and training to be prepared. We are working on programs and activities to be integrated with spiritual and religious practices to bring youth to our temple and make them an integral part of HTOM community. Such interaction with spiritual education and training will benefit them for life.

Temple maintenance and upkeep is one of the key focus areas for the next few years. Improving the appearance, upkeep of the interior of temples along with facilities including our Social Hall and Sant Sadan will be given priority.

Devotee and Trustee contributions funding is critical for HTOM to survive and thrive to provide the necessary spiritual experience and service to our community. Happy to announce that we stabilized financially and need to build further to strengthen the celebration of festivals, Karthika and Dhanurmasa Pujas and other Temple functions under the guidance of our learned temple Priests.

We thank the dedicated team of prior administration, donors and volunteers. The Executive committee is constantly striving to provide the community better programs and services so that we and our future generations can be proud of this organization. There is a lot of room for improvement and with the help and support, our temple will continue to grow bigger and better. It needs a lot of hard work, commitments, dedication and financial support from each and every one of you. With the blessings of Lord Shri Prasanna Ganapathi, we are looking forward to a successful year with rejuvenated devotee participation and encouragement.
Sundara Murthy Chokkara
President, Executive Committee (2023-24)
402-315-0818
president@htom.us